Everyone loves to eat sweets and candies. They used sweets to celebrate special events. Hans & Gretel UK – a sweet emporium where you'll be transported to fairytale worlds. Its charming décor and a variety of delicious treats from around the world make it the best choice for candy lovers.
The whimsical décor is what you notice as soon as you enter Hans & Gretel UK. It's a magical setting with flying witches, magic trees, and lollipops. It is more than just eye candy; it is a sensory experience that engages your whole body.
Some people ask frequently what the Specialties of Hans & Gretel UK are and why it's called the best place for desserts and sweets.
Quick answer: Hans & Gretel UK is an exquisite dessert paradise with charming decor and a global assortment of sweet delights. Their whimsical atmosphere includes lollipops, magical trees, and character-dressed staff, creating an immersive dining experience. You can enjoy fluffy Chimney Cakes to candy-floss encased gelato cones; from fluffy Chimney Cakes to their world-famous Bubble Waffle with multiple ice cream flavors, you can find everything you love.
Here, London Dream will discuss some specialties that make Hans & Gretel UK a destination for dessert lovers.
Hans & Gretel UK photos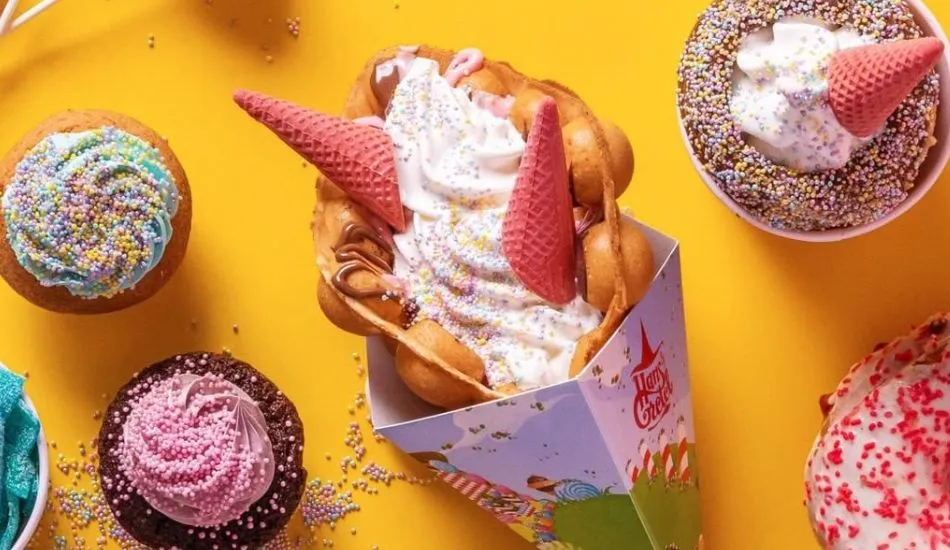 You'll see why Instagram lovers come to this location. Hans & Gretel UK is a visually breathtaking experience. The hashtag #HansAndGretelUKPhoto is synonymous with colorful, fascinating snapshots of this sweet wonderland. Every corner offers a great photo opportunity, whether it is the candy-studded walls, the giant lollipops, or the attractive gelato cones. It's not only about sharing your Hans & Gretel UK photos on social media but also immortalizing your trip through a dessert world of fantasy.
Product range
Chimney cakes
Gelato cones
Bubble Waffle
Fruit jellies
Candy Lollipops
Waffles
Candy Houses
Famous Characters and Fairy Tale Ambience
Hans & Gretel UK's food is just one part of the experience. Immersive experience is also important. It is decorated with magical elements such as flying witches and magic trees. The decor creates a feeling of stepping inside a favorite fairytale. Interacting with famous characters adds even more magic to this enchanting environment.
Imagine sharing your dessert or hot chocolate with a giant gingerbread man. Hans & Gretel Sweet Shop in London provides unique character interactions, which makes your visit one of a kind. The interactions don't appeal only to children; they also attract the little child in all of us.
A World of Flavors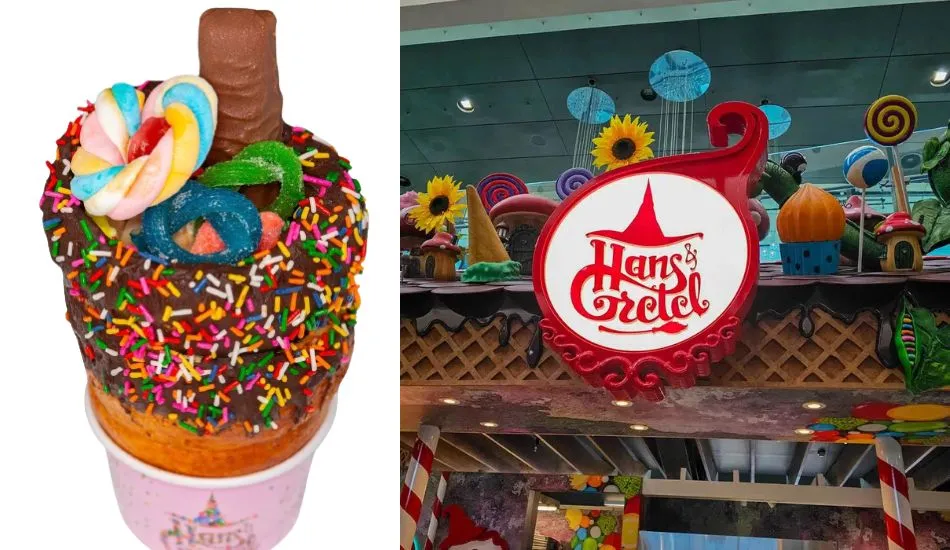 The flavors at Hans & Gretel UK are not just sweet. They're diverse and international. The menu is an international journey with a variety of flavors and textures. Hans & Gretel Sweet Shop in Camden Market offers a wide range of desserts, whether you want something classic or an exotic twist. You can discover new tastes and revisit old ones.
best place to celebrate Life Party
Hans & Gretel UK offers more than just a sweet treat shop. It's a space to enjoy life's most delicious moments. This charming venue can make any event memorable, whether it's a birthday party, an anniversary, or just a get-together of friends. Its unique décor, characters that appear, and menus for all tastes make it the ideal place to create lasting memories.