Are You Wondering Where to Shop for Fabric in London? No need to worry! London has many unique fabric stores waiting to be explored! London, a city rich in history and culture, is also the best place for fashion enthusiasts and creative minds seeking the finest fabrics. From traditional silk and lace to modern textiles, London's fabric shops offer a diverse range of materials to cater to every sewing and design need.
Everyone loves to shop at these best stores in London due to their welcoming environment, quality materials, vibrant colors, and excellent customer service. Come explore London's best fabric shops and get lost in a world of clothing stores!
Dalston Mill Fabrics 100% Cotton Fabric
Dalston Mill Fabrics was established in 1988 in Dalston's bustling neighborhood. Has long been a destination for fabric lovers since opening. Also called 'Aladdin's Cave'. This family-owned fabric shop has an expansive collection of fabrics and haberdashery supplies from around the globe. This London store's founder is Edward Kogan, who personally maintains an active involvement in running his business, creating an appealing blend that attracts customers.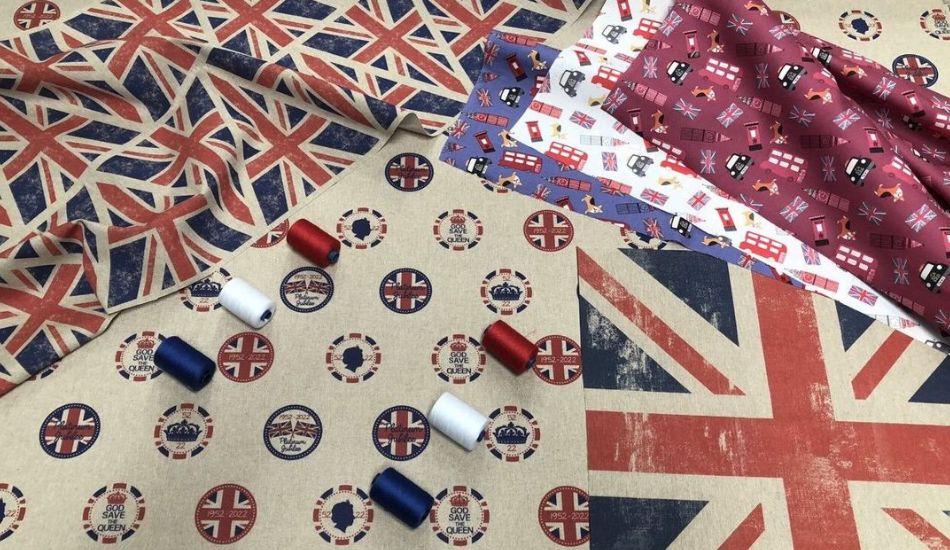 Dalston Mill Fabrics stands out with its remarkable multilingual team who speak 12 different languages – creating a truly enjoyable shopping experience for customers from all over the world. Dalston Mill Fabrics stocks an extensive range of fabrics, including silks, woolens, bridal lace fabrics, dressmaking fabrics, and everyday materials in various vibrant colors. This ensures customers from every country can access its services and inventory.
Customers with a tight budget will love the clearance sections starting at an astonishingly low PS1.00 per meter! They also have the best fabrics for athletes and performers, starting at just PS2.95 per meter. Bridal materials such as mesh laces are offered at PS1.25 per meter. A variety of materials can be used to show your creativity, such as hessian, felt, fur, and canvas fleece. Dalston Mill Fabrics caters to customers worldwide through its online shop and worldwide shipping services, serving both local and international markets.
Orya Textiles Fabric Shop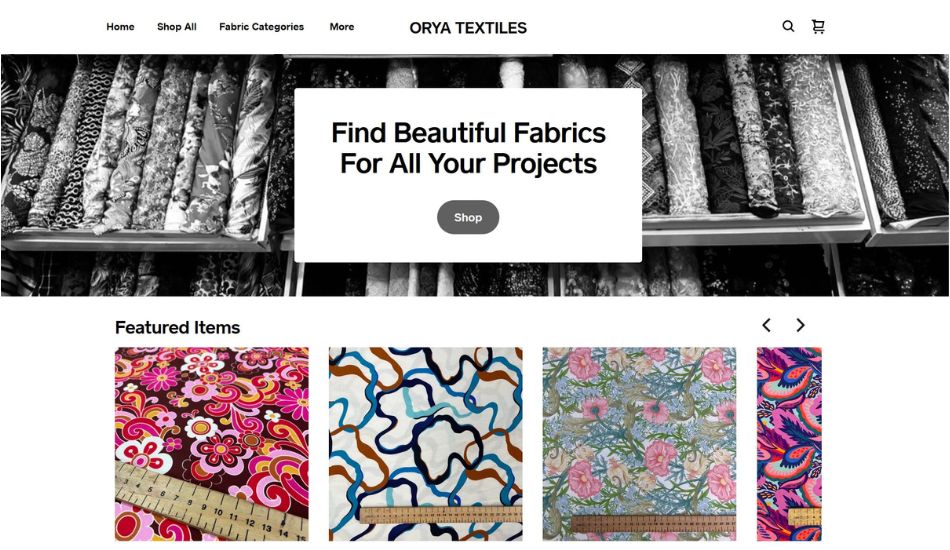 Orya Textiles on Goldhawk Road offers the ideal combination of traditional and quality fabrics for fashion designers. This family business, with years of textile and fashion experience, has made Goldhawk Road its home for 30 years. The result is an excellent portfolio of clients, including film studios such as Warner Bros and Netflix, renowned fashion brands like Dolce & Gabbana, and even celebrities.
Orya Textiles takes great pride in importing top-quality fabrics from Italy, Germany, Switzerland, and the UK. Orya's commitment to customer satisfaction is evident in its willingness to go above and beyond.
If something can't be found online, they encourage customers to visit their physical store, and their team will do everything possible to meet your specific requirements!
Orya Textiles stands out with its convenient swatch sampling service. Customers can order samples for just PS1.00 each, including delivery charges. Customers receive their ordered samples on the same day. This enables shoppers to assess fabrics before buying. This service can be valuable for buyers who are concerned about quality and colors. This service also makes Orya Textiles one of London's premier textile suppliers.
Orya Textiles provides an impressive variety of fabrics such as satin, Missoni knits, and other thousands of fabrics to choose from. you will have everything you need for your next project!
Liberty London
Liberty London, established in 1875, is not just a fabric shop but a historic landmark. Founder Arthur Lasenby Liberty's vision was to create a unique emporium that introduced Londoners to the exquisite fabrics of Japan and the Far East. Although Arthur never witnessed the completion of his dream, Liberty London stands as a testament to his vision.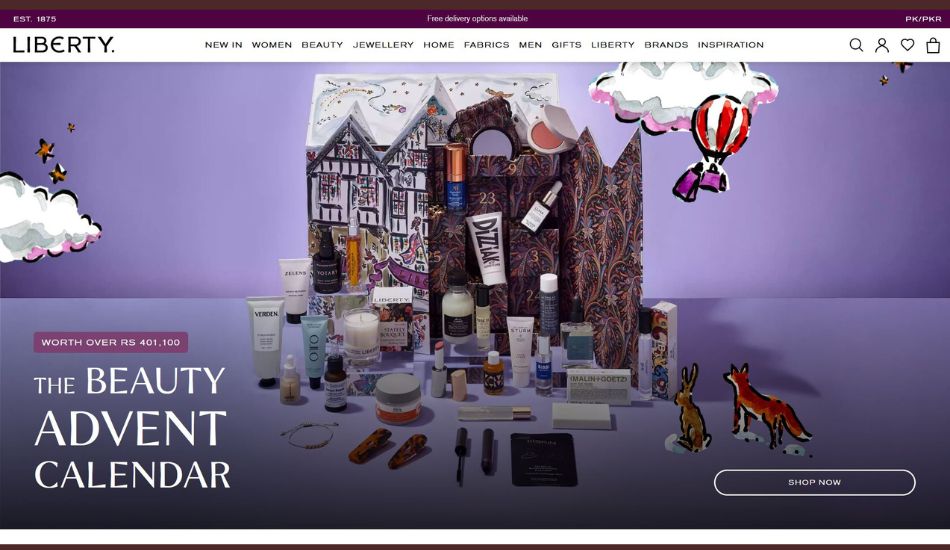 Located on Regent Street, this Grade II listed building is a London Heritage-listed icon, drawing both locals and tourists with its rich history and architectural beauty. Shopping at Liberty London is an experience in itself, with a reputation for bold and floral print fabrics. Liberty London offers various fabric ranges, including a modern printed fabric starting at £27.50 per meter, and the Tana Lawn cotton range, named after Ethiopia's Lake Tana, available from £27.50 to £29.95. The Classic Cotton fabrics, with prices starting around £27.50 per meter, are timeless and renowned for their softness and unique feel.
Empire Textiles
Empire Textiles, situated in the heart of London's West African fabric and textile district, is a must-visit destination for those seeking vibrant and authentic West African textiles. Occupying a spacious 6,000 square feet on Middlesex Street, this fabric store offers a wide array of materials. These materials include West African lace, Brocade, Swiss voile, wax prints, and head ties.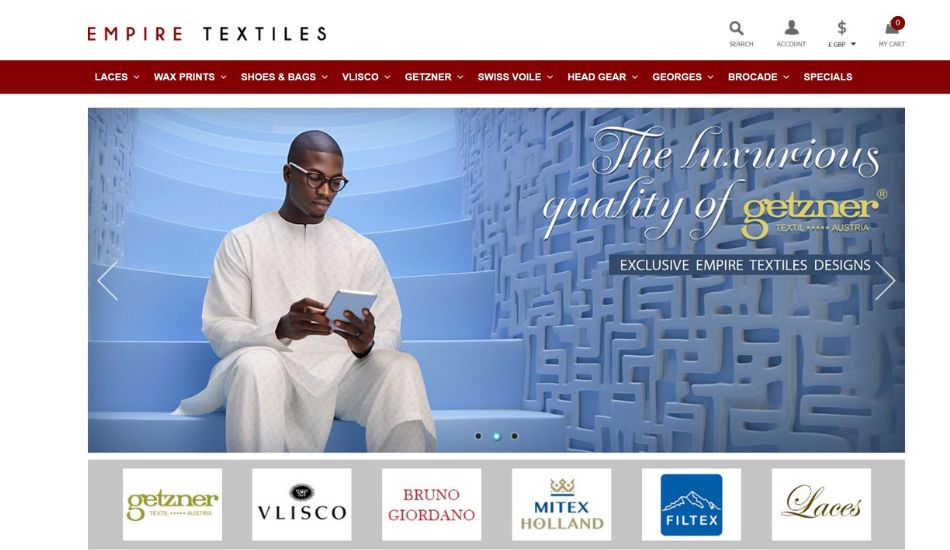 The team at Empire Textiles has a collective experience of 40 years, serving a diverse clientele of retail shoppers, textile retailers, and fashion buyers. One of the shop's standout features is its impressive worldwide shipping, which garners praise from international customers for its speed and efficiency.
Empire Textiles is renowned for its lace collection, available from £50.00 per 5 yards (4.57 meters) in the sale to Big Voile Lace, priced at £650.00 per 5 yards. The shop also offers wax prints, with prices ranging from £25.00 per 6 yards to £180.00 per 5 yards.
A unique addition to Empire Textiles' offerings is the genuine West African George fabric, originally used for Indian saris and later adopted by African royalty and nobility. Priced at £225.00 per 5 yards, this fabric carries a rich history and cultural significance. For those seeking high-quality West African fabrics with an abundance of options, Empire Textiles is an excellent choice.
MacCulloch & Wallis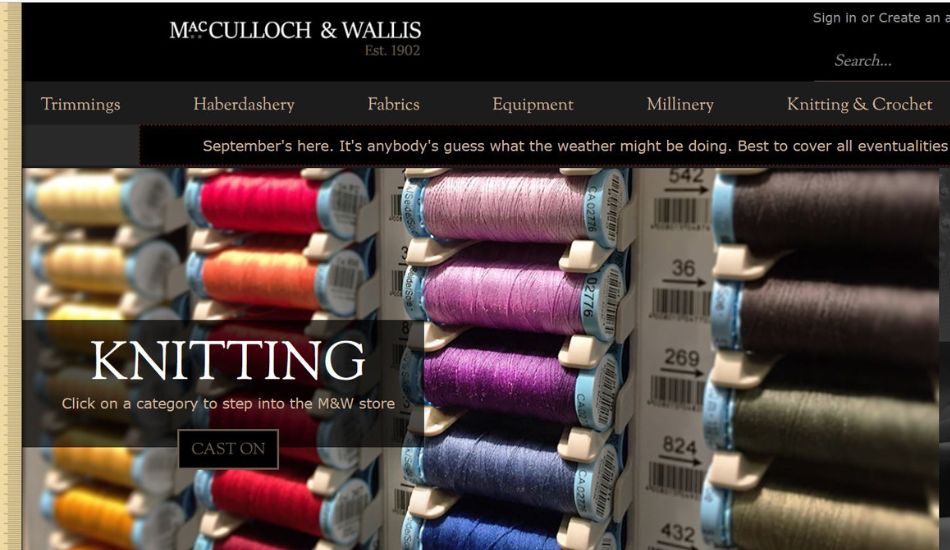 For those seeking the epitome of traditional fabric shopping in London, MacCulloch & Wallis, located in Soho, is a name that stands out. Established in 1902, this iconic fabric shop has earned a reputation for excellence in haberdashery. It's a favored haunt for hobbyists, professionals, students, and anyone who appreciates fine fabrics.
MacCulloch & Wallis offers an extensive selection of professional-quality materials, including the finest silk, wool, and cotton fabrics. Beyond fabrics, the shop stocks a wide range of haberdashery and sewing supplies, encompassing buttons, zips, trimmings, and threads. Knitting and crochet enthusiasts will also find a dedicated section to explore. What truly distinguishes MacCulloch & Wallis is its commitment to preserving fabric shopping traditions. With its rich history and unwavering dedication to quality, it remains a cherished destination for those who appreciate the tactile and visual pleasures of textile exploration.
The London Fabric Co
Located just north of Brixton, The London Fabric Co offers an enticing array of fabrics that cater to a wide range of tastes and preferences. From African wax prints to abstract designs and classic Liberty patterns, this shop has it all. The extensive list of stocked brands includes household names like Armani and Mulberry, as well as niche brands such as Boussac. In addition, it includes timeless classics like Sanderson.
What sets The London Fabric Co apart is its claim to possibly having the widest range of designer fabrics in London. No matter your skill or design taste, you will find something premium here. You can also enjoy their collection during your visit.
The Silk Society
From the lustrous elegance of silk to the intricate beauty of lace, The Silk Society is a premier fabric shop located in Wembley. As the name suggests, the store boasts an extensive range of silk fabrics, including dupion silk, satin, chiffon, and an abundance of haberdashery supplies.
One area where The Silk Society truly shines is its bridal fabric section. Here, you'll find a lovingly curated selection of first-class fabrics, perfect for wedding gowns and accessories. The Silk Society has gained an outstanding reputation for helping couples fulfill their wedding day dreams, providing bespoke fabrics, and connecting customers with couture dressmakers. If you're planning your big day or any special event, The Silk Society should be at the top of your shopping list when looking for those special garments to commemorate it all!
Fabrics Galore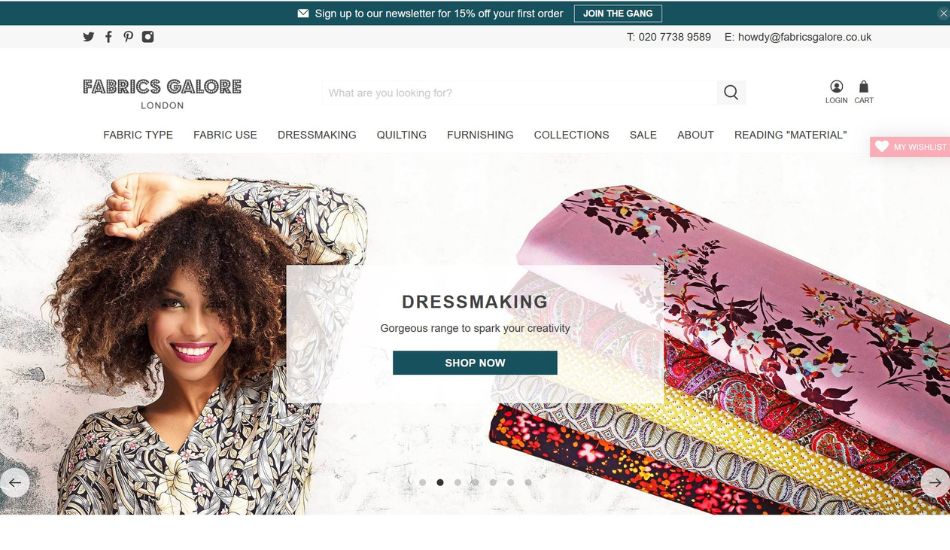 Fabrics Galore, located in Battersea, is a well-known haberdashery and fabric store offering stylish fabrics for upholstery, quilting, dressmaking, and curtain-making projects. Here, you'll discover an endless variety of vibrant patterns ranging from animal prints and florals to lace corduroy and hessian. With Fabrics Galore near you, you'll have everything you need for all of your creative projects- and more!
Fabrics Galore offers fabrics from top designers such as Alexander Henry, Cath Kidston, and Orla Kiely; its mix ensures you can find fabrics to meet each visitor's specific tastes and creative projects. More than just a store, Fabrics Galore serves as a platform to enable creative minds to find the inspiration and materials necessary to bring their visions into reality.
Joel & Son Fabrics
Joel & Son Fabrics is a specialist fabric shop with a world-class reputation. In fact, it held a Royal Warrant from HRH Queen Elizabeth II, a testament to the exceptional quality and service it offers. Located in Marylebone, it's one of the most coveted fabric shops in West London and the entire capital.
The inventory at Joel & Son Fabrics features a complete range of silk, tulle, lace, bouclé, and couture fabrics from top brands like Abraham, Emanuel Ungaro, Ermenegildo Zegna, Loro Piana, Jakob Schlaepfer, and Liberty, among others. This store caters to those with a passion for luxury textiles and an eye for detail. While prices per meter may reach PS300, quality, and craftsmanship remain consistent.
Joel & Son Fabrics embodies the essence of an "old school" fabric supplier and haberdasher. If you're in pursuit of genuine top-level expertise and the finest fabrics London has to offer, this is the destination of choice.
Wrap UP
We hope this guide will help you make the right decision when planning to buy the best fabric from a well-reputed shop. If you're a seasoned designer or a crafter, these 9 top shops in London offer a different collection of fabrics that provide endless possibilities for your creative projects.